VW AMAROK (DOUBLE CAB) TESSERA NEW GENERATION ALUMINIUM ROLLER SHUTTER / LID
Compatible with stainless steel Φ76 VW's original roll bar & black Φ76 VW's original roll bar of "Canyon version". Free adaptors by request. 
The strongest & durable (for heavy duty) roller shutters of the global market.
Compatible extra accessories (hand rails, roll bars, loading bars, roof racks & rails etc.) not included.
All prices are VAT inclusive.
FREE EU SHIPPING. (Please, contact us to confirm.)
Specification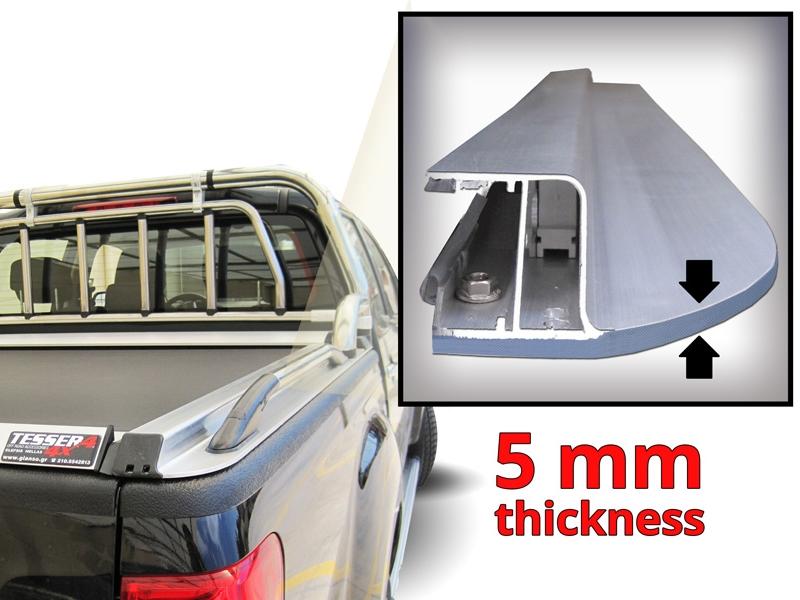 Specially made (patented) perimeter base from anodised aluminium (thickness: 5 mm), which hugs completely 100% the shape of the trunk's rail part (in length and width). As a result, this provides a strong and durable (not decorative) installation procedure for all types of roll bars, side handrails and loading bars (new or existing accessories). It also offers you the flexibility to combine it with original accessories (OEM), such as roll bars & protective rear window ladder racks (for example: Ford Ranger, VW Amarok, Toyota Hilux, Nissan, etc.).
(Patent Numbers: WO 2014/053863 & No. 1008153 & No. 1007595).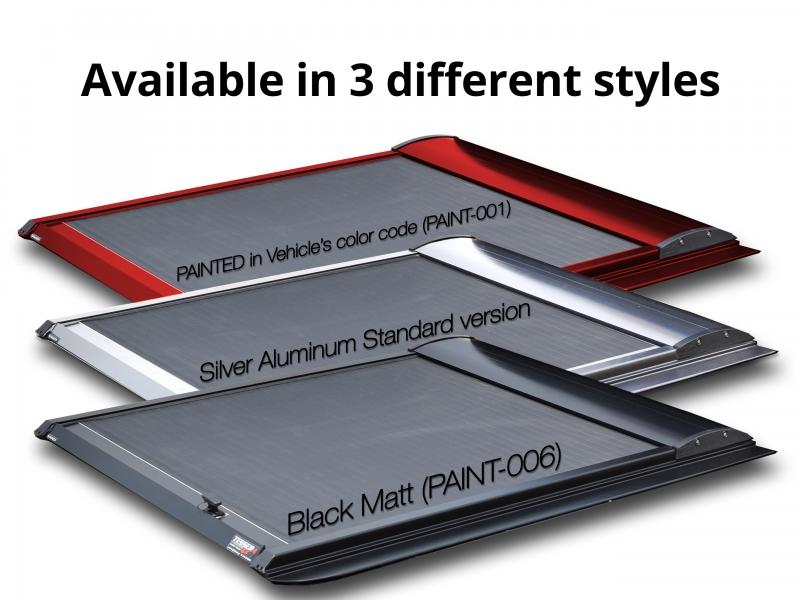 It is launched in silver anodised aluminium as standard version
Available in 2 EXTRA OPTIONS:
Black Matt painted in 180°C for 30 minutes, an advanced process certified with the international standards 9001:2000 (Quality Management Systems) & 14001:2004 (Environmental Management Systems) and "SEASIDE CLASS" quality seal of the company QUALICOAT).
Painted in the vehicle's colour code, according to the standards of car manufacturers.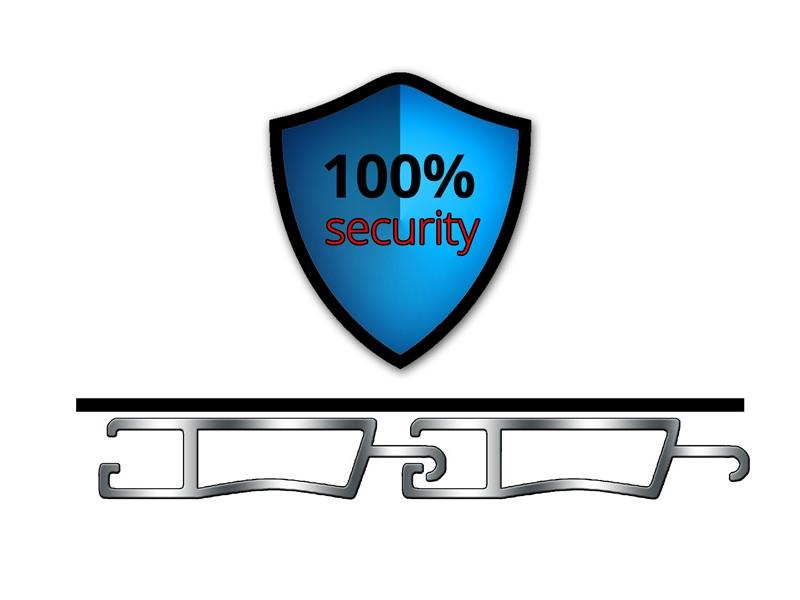 Specially designed (patented) aluminium hinges provide a smooth and frictionless rotation, and minimise stress on the vinyl surface. These aluminium hinges offer 100% security when in a flat position, as they are impossible to disengage from each other (Patent Number: No. 1007947).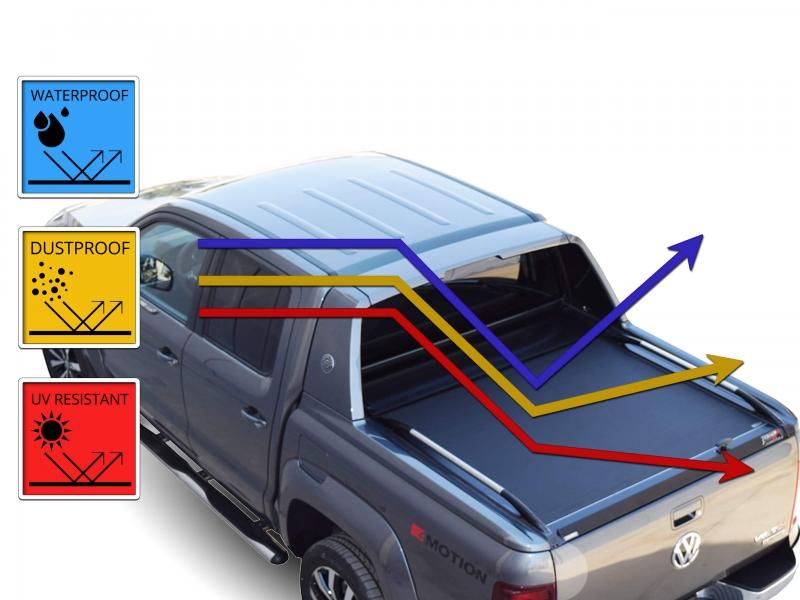 Weatherproof surface (water & dust), due to the unique combination of vinyl sheet on top of the strong aluminium hinges (panels) that roll along the anodised side aluminium rails parts.
Surface characteristics: waterproof & durable, fire retardant, resistant against colour fade caused by the UV sun rays, superior abrasion resistance, antimicrobial & antibacterial, easy to clean.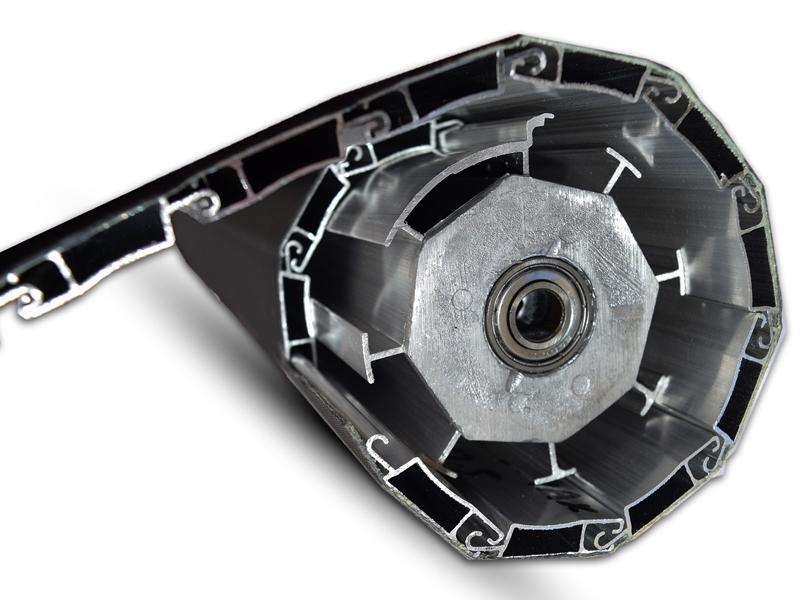 Specially designed for strong and durable use (heavy duty) aluminium axis ∅80, with reinforced duralumin fitting base, metallic bearings in the axis and strong spring (heavy duty).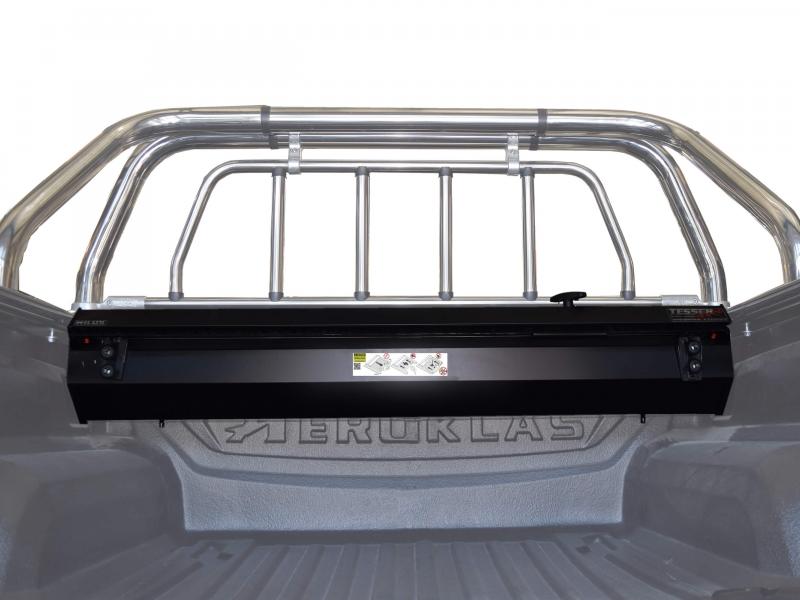 Specially designed housing box: made from solid (one piece) galvanised steel 1.5 mm, painted in black matt colour (powder coat) small and compact design for bigger loading capacity in the trunk body.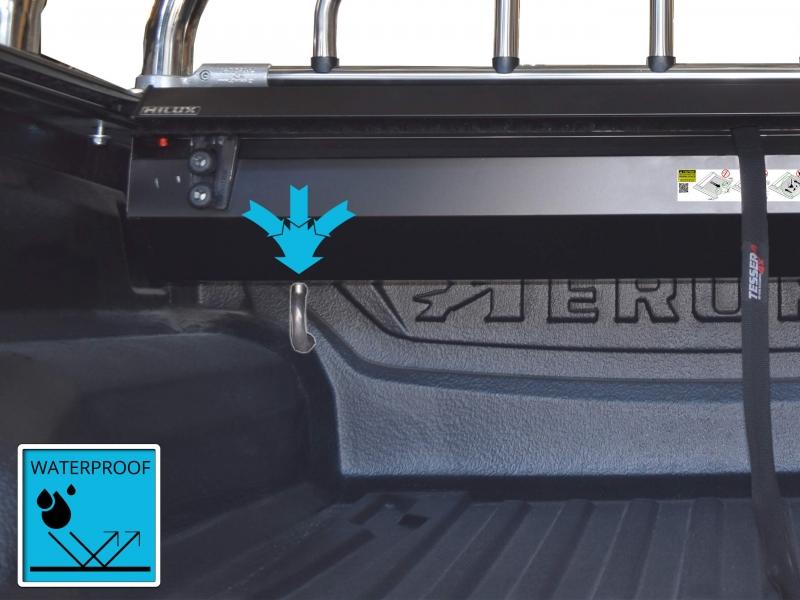 Specially made two drainage systems and two overflows, recessed drain fittings ensure rapid and complete drainage of the unit housing.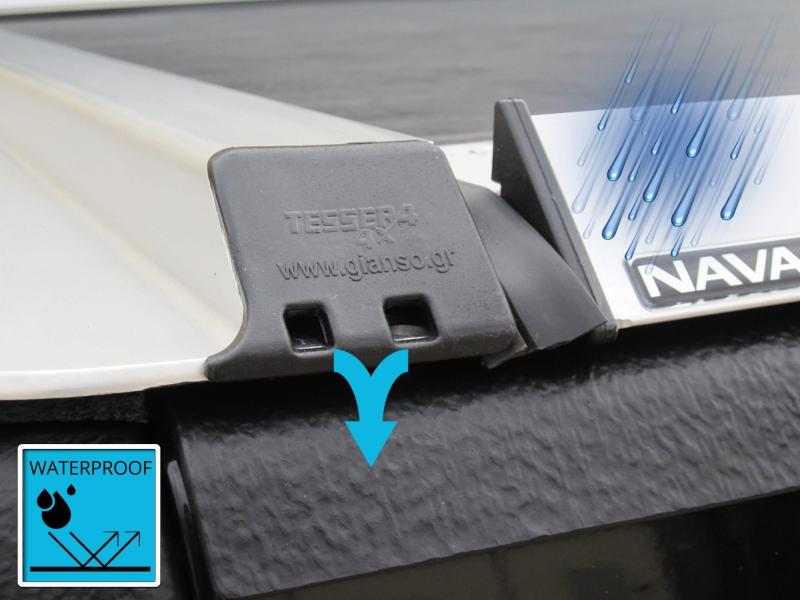 Specially made side rubbers seals, brushes, and 4 water channels (drainage system) for the best protection from water and dust.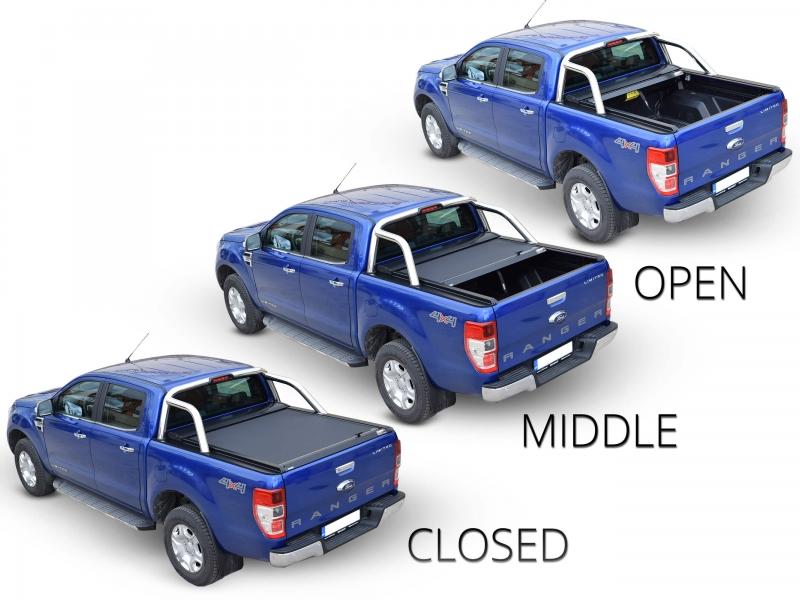 Multiple locking positions (We can add more locking positions per your preference).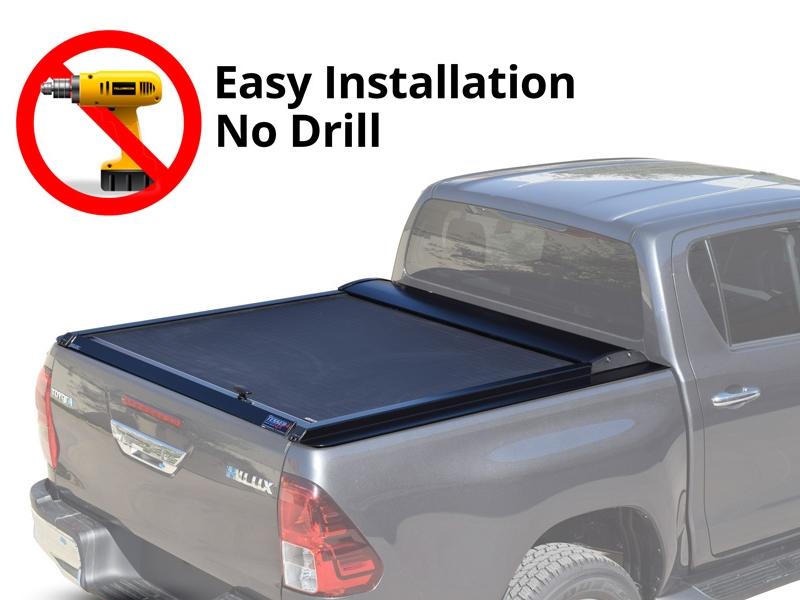 Installation: easy and quick, with no need for drilling (installation with drilling only in cases with roll bars, side hand-rails, loading bars for maximum power).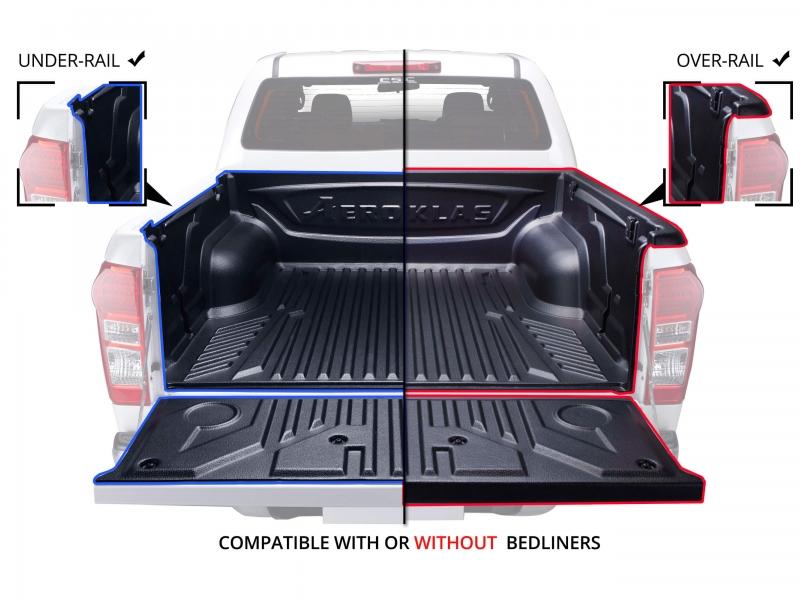 Can be fitted in vehicles with or without a bed-liner (under-rail or over-rail: the only roller lid that can be installed with over-rail version bed-liners with no need for the rail part to be cut).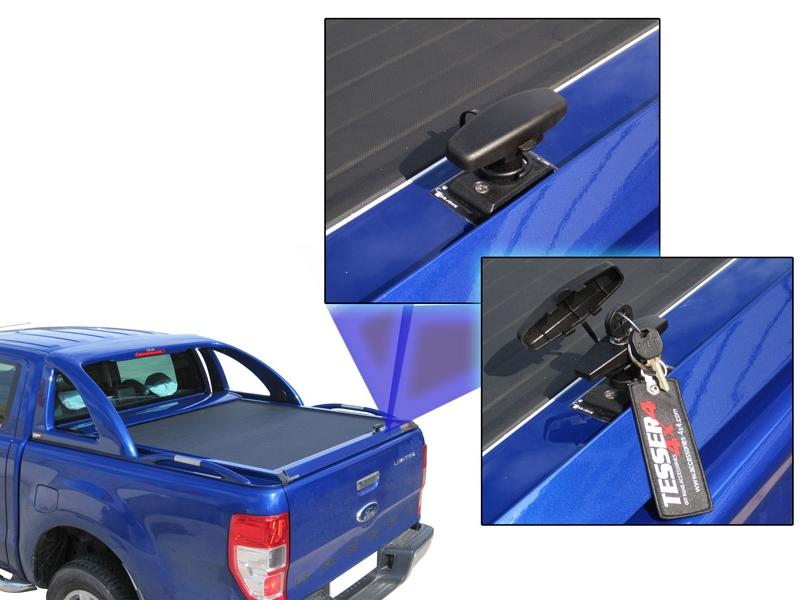 New high security central locking system, with new ergonomic handle and protective cap from all weather conditions (made in Germany).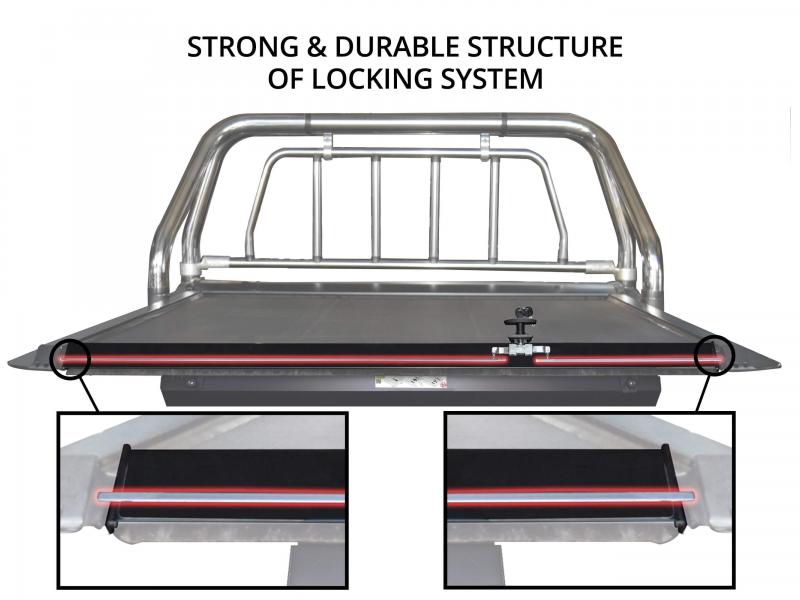 The construction of the lock consists of two large metal parts of anodised aluminium (95 cm & 35 cm) on each side of the roller lid (tongues). These tongues extend over the entire length of the roller lid.
This peculiarity gives the advantage to the lock that it is long lasting and makes it resistant to extreme weather conditions.
A unique feature that makes the locking of the roller lid one of the most premium products currently available in the market of aluminium roller lid shutters.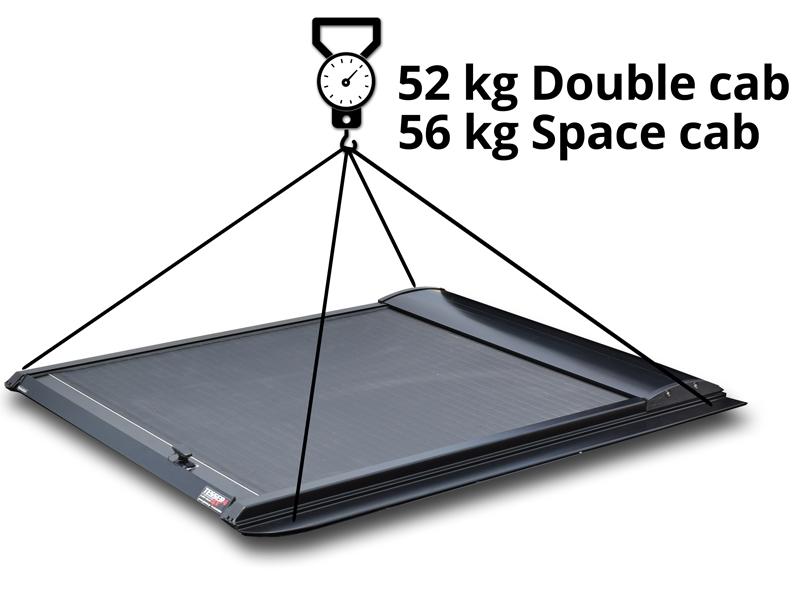 The strongest & durable (for heavy duty use) roller lid in the global market (total weight of aluminium: 52 kg for double cab & 56 kg for space cab).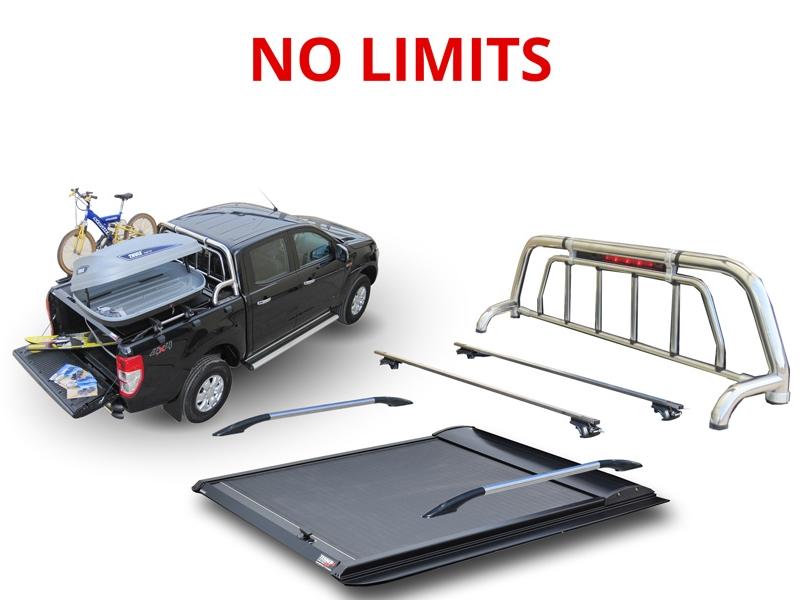 An ideal choice to combine your vehicle's trunk body either for personal use (big boot), or professional use (loading, tying, protection, security).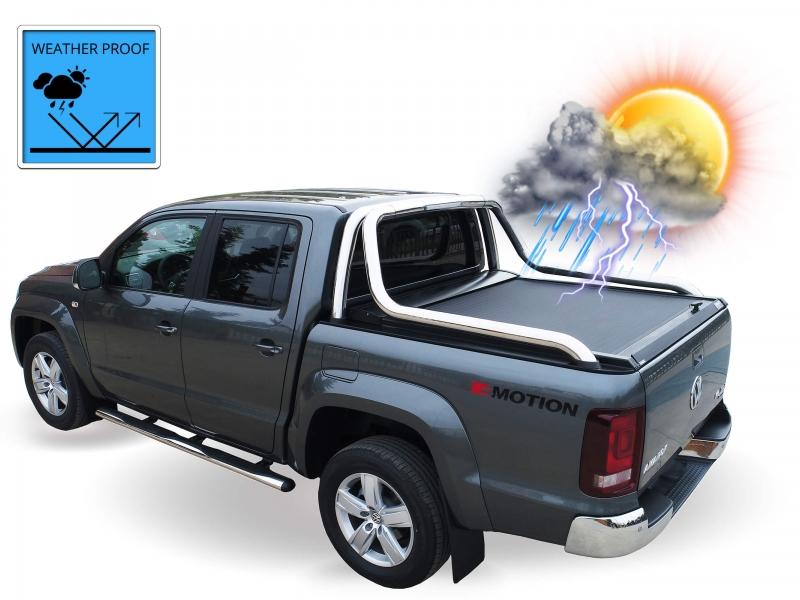 It protects the trunk and its contents from all weather conditions.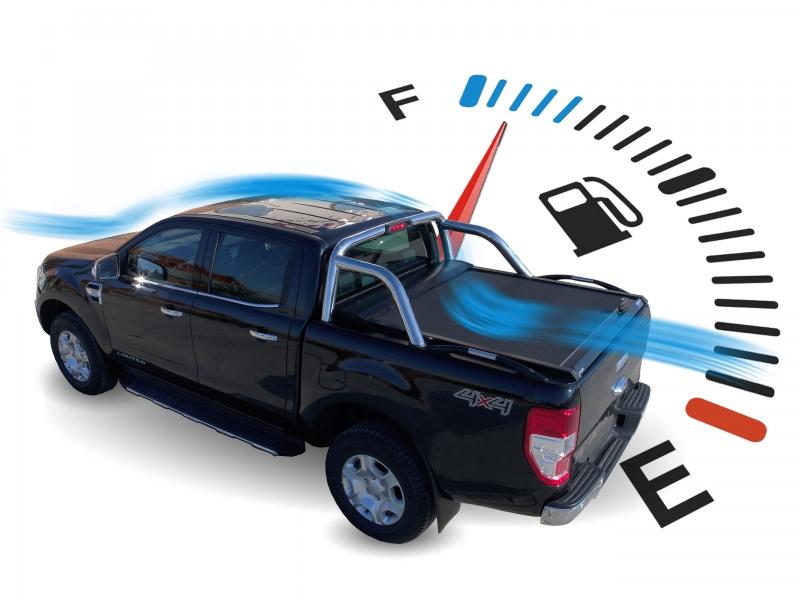 It contributes to the aerodynamics and overall driving experience, especially at high speeds as it works like a big wind-spoiler in the pickup's trunk, and offers far more favourable fuel efficiency.
---